Surviving is what we do every day of our lives. We eat, drink, sleep, work to keep a roof over our heads, and repeat.
If you check out Maslow's famous hierarchy of needs, you can see that as humans, we typically want to do more things than just survive: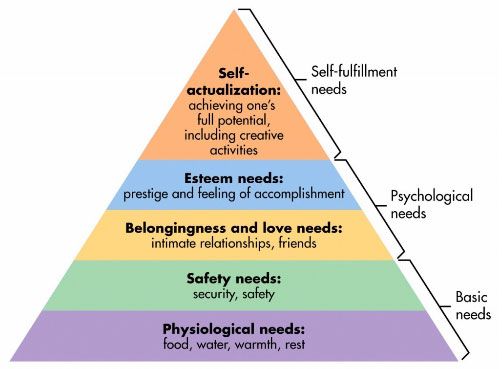 We've built up societies and civilizations to collectively support those lower needs at economies of scale and focus more on supporting the higher ones, the psychological and self-fulfillment ones, more readily.
Survivalism, at its core, asks "What if those sociological structures fall away and we are left on our own? What if a catastrophe happens and we enter a period of uncivilization?" Or, in their terms, "what if shit hits the fan (SHTF)?"
The history
Survivalists, also known as preppers, retreaters, and a slew of other terms over the centuries, are people (either as an individual or as groups) who are readying themselves for dire circumstances. The circumstances can range in origin, from natural disasters to societal collapse to armed conflict, and also in scale, from local discord to international cataclysm.
There are many interpretations of survivalists vs. preppers vs. other terms but for the sake of simplicity, we refer to them all as survivalists.
The survivalism movement began taking traction in the modern world in response to times of heightened global volatility. The Great Depression, the Cold War, oil crises, Y2K, acts of terrorism, environmental disasters – throughout the history of the US, the many difficulties the country has faced has historically resulted in upswells of interest in survivalism and preparation.
For the first time as a society, however, the US is seeing this movement become more mainstream. The Trends Research Institute stated in 2009 the noted rise of the "neo-survivalism" movement,
"When you go back to the last depressing days when we were in a survival mode, the last one the Y2K of course, before the 1970's, what had happened was you only saw this one element of survivalist, you know, the caricature, the guy with the AK-47 heading to the hills with enough ammunition and pork and beans to ride out the storm.

This is a very different one from that: you're seeing average people taking smart moves and moving in intelligent directions to prepare for the worst. (…) So survivalism in every way possible. Growing your own, self-sustaining, doing as much as you can to make it as best as you can on your own and it can happen in urban area, sub-urban area or the ex-urbans.

And it also means becoming more and more tightly committed to your neighbors, your neighborhood, working together and understanding that we're all in this together and that when we help each other out that's going to be the best way forward."
That being said, there are several different types of survivalists and preppers out there. Some are hobbyists, some are far more serious. It'd be extraordinarily difficult (and/or expensive) to prepare for every possible crisis scenario on Earth. Survivalists tend to fall into these different categories in terms of the scenarios that are emphasized and prepared for:
Natural disaster

With varying lengths – brief (ex. tornado, hurricane, wildfire, earthquake, or heavy snowfall regions), prolonged (drought, crop failures), indefinite (volcano, climate change, nuclear winter, meteor impact)

Human-made disaster

Peak oil, Malthusian/overpopulation, pandemic/epidemic, collapse of civilization, financial disasters

Religious
Short-term general safety

Safety preparedness, self-defense, medical crisis

Wilderness safety

The ability to survive in the wilderness for indefinite periods of time and withstand environmental conditions
The market
The word "Survivalism" itself is a misnomer. We are all, as human beings, survivalists. However, for the sake of defining an industry, Survivalism includes companies and brands supporting people who are preparing for lean times or disaster.
We categorize the Survivalism market into these segments and have included examples of market leaders in each space:
Gardening/Farming/Homesteading

Gardener's Supply Company, Burpee, Hawthorne, Gurney's, Homesteader's Supply, Portland Homestead Supply Co, My Patriot, Tractor Supply Co., John Deere, Bobcat, Caterpillar, Kubato

Hunting & Fishing

Cabela's, Flymen Fishing Co, Berkley, AFTCO, Northland Fishing Tackle, Bass Pro Shops

Security

Smith & Wesson, Ruger, Mossberg, Remington, Springfield, Winchester, Kalashnikov Concern, Sig Sauer, Colt, Beretta, Glock, Bushmaster, Marlin, Becker, Kershaw, Spyderco, Gerber, Ganzo, Morakniv, Tramontina, SOG, Ontario, KA-BAR, BlackHawk, MTech, Leatherman, Victorinox, TAC-FORCE, Outdoor Edge, Mace, Sabre, Benchmade

Shelter & Power

HeatMaster, Nature's Comfort, SolarCity, EcoSolarCool, Luci, Solavore, WaterBasics, Bar-ricade, Liberty Safe, Dakota Alert

Apparel

Rothco, Beyond, Gander Mountain, OPSGEAR, Propper, Duluth Trading, Infidel Combat Systems, Galls, Carhartt, Pointer Brand, 5.11, Patagonia, Columbia, North Face, Mountain Hardwear

Outdoor Equipment

Great Outdoor Provision Co., Readyman, Camelbak, Coleman, Stihl, Husqvarna, Kobalt, Craftsman

eCommerce/General Stores

Duluth Trading, REI, Gander Mountain, Top Pack Gear, Day One Gear, US Prepper Gear, Sportsmans' Guide, Survival Life Store, CH Kadels, Amazon

Long-Term Food & Water

LifeStraw, FoodSaver, Mountain House, Legacy Premium, Wise Food Storage, Berkey Water Filtration, Alpine Aire, Mayday, Aquapod, Katadyn, Aquamira

Medical

H&H Medical Corporation, Doom and Bloom Medical, Alton First Aid, American Red Cross, Elite First Aid

Transportation

Jeep, Honda Motorcycles, Suzuki Motorcycles, Kawasaki Motorcycles, Gibbs Sports, Yamaha, Harley Davidson, Indian Motorcycle

Survivalism Education

Happy Preppers, Survivalist.com, Survivalist Prepper, The Survivalist Blog, Prepper Website, American Preppers Network, The Prepper Journal, Survival Life, Practical Preppers, Preparing for SHTF, Backdoor Survival, Prepper Academy
The market does include brands and organizations who are more about profit than about living and supporting a survivalist lifestyle. An estimate by one survivalist author in 2009 was that only about 5% of businesses in the space are committed to truly supporting survivalism.
Please note – at Exothermic, we support brands and organizations that emphasize self-reliance but are not fear-mongers. From our perspective, we partner with companies in the Survivalism space who are not preying on individuals or generating fear from nothing, but instead helping people prepare in a healthy way.
If you're the sort of organization and would like our help, contact us. If you're sort that likes to find fear and panic under every rock, then no thanks.
And if you've read this blog post and want a deeper dive, you might want to check out our market research report on the Survivalism Market & Trends in June to learn more about the growing industry and its trends.