Marketing automation is a relatively newer, shinier thing for smaller businesses. It's the process of automating repetitive tasks, like email campaigns or lead notifications.
For example, every time someone signs up for your email list, it would be nice to send them a welcome email, right? Marketing automation enables you to create a template email so that the system you're using does that for you.
So, this would help you out rather than you getting a message every time someone new signs up and you having to write something new or copy and paste an old message you sent to the last sign-up. Or even worse, getting no message every time someone new signs up and you having to manually check the system.
The biggest problem with marketing automation is that it's too big and too expensive for most small to medium sized businesses. Until now. Hatchbuck, a marketing automation and CRM tool, is our current go-to recommendation for marketing automation.
Even though it has a pretty stupid name.
Hatchbuck's Pricing
Part of the biggest reason we really like Hatchbuck is the price point, truth be told. Pardot, Hubspot, Act-On, and several of the other main players in the marketing automation arena cost $800+ a month. A month.
Hatchbuck costs $59 a month for a single user. The price difference for tools offering similar features is insane.
It doesn't have the fancy, overly complex features the bigger ones have. But for a small to medium sized business, you don't need those things.
Oh hey, CRM included
One of the biggest gripes with any marketing automation tool right now is the lack of CRM integration. A CRM (customer relationship management tool) helps you keep track of your sales leads and your funnel. Pardot, for example, is owned by Salesforce – therefore, to really get a lot of use out of that marketing automation tool then you also need a Salesforce CRM license.
So, per my point earlier, let's check out Pardot's pricing:
And then Salesforce's pricing for a CRM: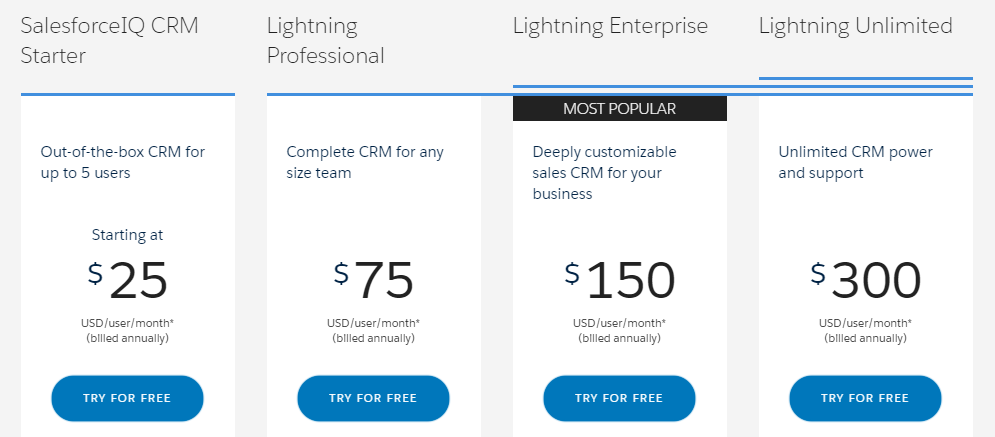 This is overkill for a small to medium sized business. Hatchbuck has all of the features of the base Pardot tier, things are just worded a bit differently. And it's beautifully customizable. Speaking of…
Support
Hatchbuck's support is marvelous. They're small and they know it, so they own that right now and are extremely attentive with every customer they get. That "Quick Start Package Included" is a blessing that enables you to spend a set number of hours with a Hatchbuck consultant who will personally walk you and your team through the system and assist you in customizing it specifically for your needs, while also sharing best practices and benchmarks with you.
I was blown away by this the first time I set up a Hatchbuck account. I'm not sure they'll be able to keep this level of commitment up but as of mid 2017 – it is truly one of the most valuable things they offer as most businesses struggle to get into marketing automation and understand how to make a tool work for them.
I can't tell you how many companies sign up for a marketing automation tool or a CRM and simply never use it. Hatchbuck is determined to not be one of those tools left to the side, idly incurring large charges every month.
Note the limitations
It's worth noting that there are plenty of limitations here.
This is not a great tool for e-commerce, where you'd want far more contacts available to you than the set amounts for the tiers here. Unless you deal with a very, very small niche.
It's also not great if you have a large sales team. That's when Salesforce truly can come in handy, or several other CRM and marketing automation options. But if you have a large sales team, you can bear the burden of those costs better.
This is also a risky tool for the survivalism space that we work with because at marketing automation's core, it involves tracking.
For Hatchbuck, that means that whenever someone a) clicks a link in an email you've sent them or b) fills out a form on your site, they enter your automation system. You can still upload email addresses manually or import them from a spreadsheet if they've signed up on a piece of paper at an event (see our recommendations on this here), but until they've interacted then they won't be trackable.
Once they've made themselves known through either of those steps, you can then see their activity on your website (which is why your website is one of your most important digital marketing channels, besides emails). The survivalism market doesn't appreciate being tracked and tools like these can erode their trust in your brand, but the other industries we work with (sustainability and self-improvement) are more tolerant.
There's an ethical fine line here for marketers to be aware of once they begin tracking potential leads. Some people are aware that clicking links and submitting forms will begin an exchange process, but make sure you don't abuse that trust.
We are strong believers in trying to be as ethical as possible with our marketing (which is why we don't do retargeting) and know that marketing automation only works because of cookies being enabled. Therefore, if someone deletes their cookies on a regular basis, you will not be able to easily track them and most of these systems are rendered moot.